Explaining the advantages of MMC
Modular construction has been around for over 100 years: the first recorded modular building was built in London in 1837 and transported across the globe to Australia. 
The modular construction industry has come a long way since then, with around 85,000 modular buildings being built every year in the UK.
Despite this, people still have questions and reservations about modular construction. In this blog post, we'll dispel the myths around modular construction.
Modular building is defined as a "modern method of construction" (MMC). What does that mean?
Traditional building methods haven't changed in a long time, but technology has. We could say that the goal of  "modern methods of construction" is using modern technology to create buildings with the same or even better quality as traditional ones, but make them faster, much more sustainable, at a reduced cost and with less disruption.
That's what makes modern methods of construction special.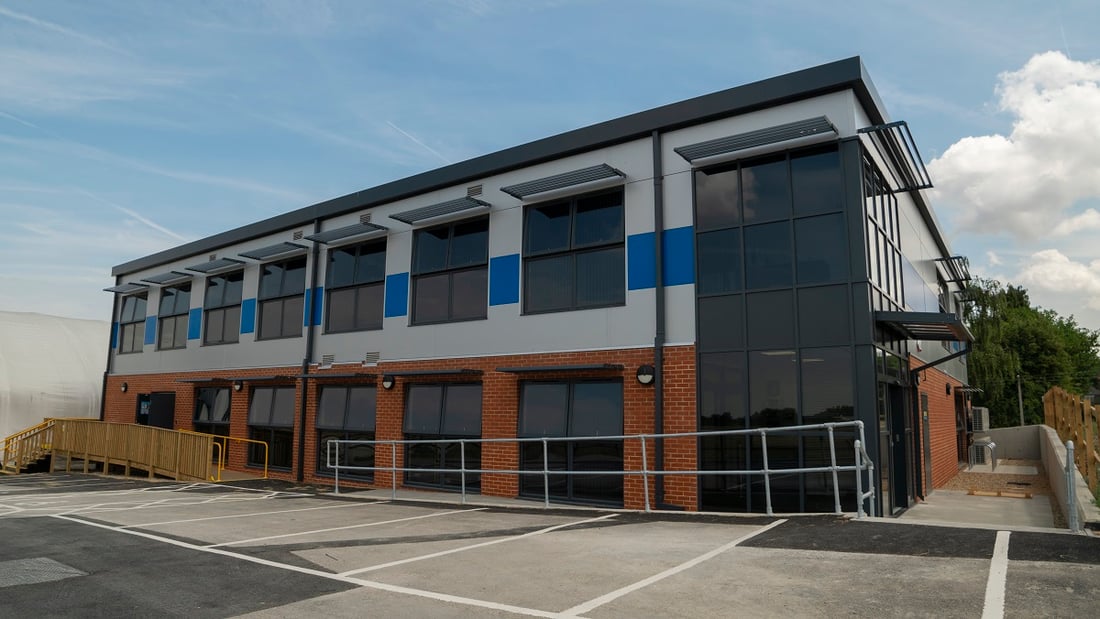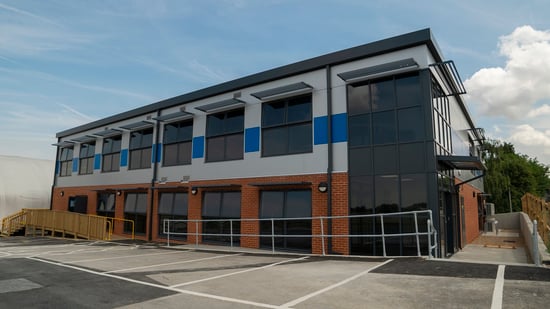 Click on the image to view our case study video for Kent Sussex Air Ambulance
So modular buildings are no longer uniform or ugly?
The public sometimes has a preconception of modular buildings as unattractive, simple or temporary constructions, like the temporary classrooms you might remember from your childhood if the school ever went through a refurbishment.
Here's an example of an old modular building next to a modern equivalent. We're sure you will agree the difference is night and day:

The early history of modular buildings in the '80s, '90s, and even through 2005 when the housing crisis hit the UK, included portable box buildings that were one-size-fits-all, standardised and, yes, even ugly.
This created a stigma for prefabricated buildings that to some extent persists today. However, it could not be further from the truth.
Modern modular buildings today can be fully customised and configured to meet any requirement. Modular buildings can be used for educational, sports & leisure facilities, commercial, retail & residential settings. They are bespoke, tailor-made and not restrictive in design. Any modular construction project can be fitted or retrofitted to meet environmental or physical disability needs and still put functionality at the core of the build.
Modular construction companies work best when they are brought in as early as possible to any given project. It enables them to generate initial ideas and concepts that may not have been on the table before.
Modular companies will consult with clients from the start to generate great solutions, then will use top-of-the-line architectural software to create the design. They will use simulated design and virtual reality, enabling real-time problem solving before the build has even started.
The government's 'construction playbook' has meant the field of modular design and construction is advancing quickly and becoming the preferred building method of the future.
Aren't modular buildings just if you need a "quick fix" solution?
It's not unusual for people to believe that modular buildings are a just quick-fix solution. They imagine temporary buildings craned into a construction site, not something built to last.
That is a misunderstanding of the type of work that we do. We deliver high quality permanent buildings with designs that match and even exceed those for traditional construction methods. The benefit is that they can be quick, very quick. It is possible, if the circumstances allow, to deliver the entire package within 16 weeks depending on the size and complexity of the project.
However, where they are wrong is assuming that modular buildings are not built to last. Most modular buildings have a lifespan of up to 60 years. And as you might expect from a long-lasting building, you will need proper planning permission before construction can begin.
But I thought modular buildings had fewer regulations?
Actually, modular buildings come under the same scrutiny as any new building, if not a little bit more!
The UK government provide a fair amount of guidance on building regulations. When it comes to building regulations, modular vs traditional construction is broadly the same.
Some examples of building regulations for modular buildings are:
Structure
Fire Safety
Moisture and contamination resistance
Electrical & Glazing Safety
Access and use of the building(s)
Conservation of fuel and power (Environmental)
Essentially everything you'd expect from a regular brick and mortar build.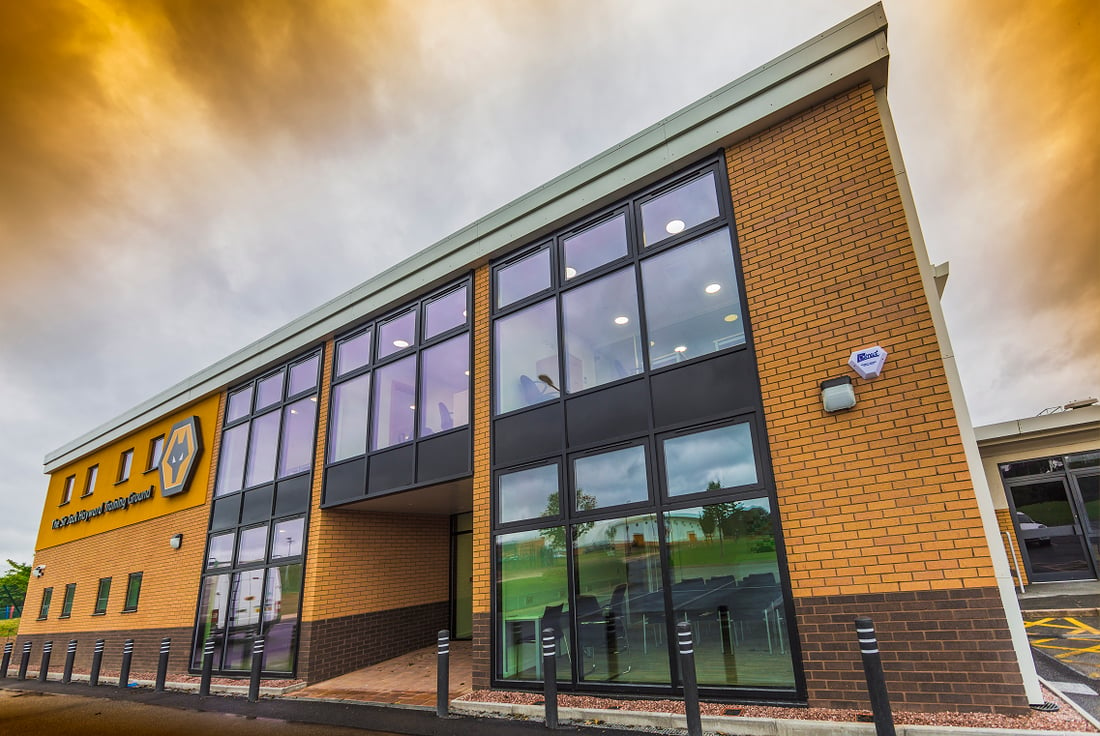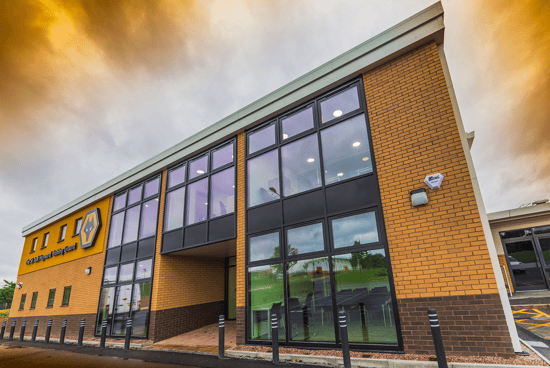 Click on the image to view our case study  for Wolverhampton Wanderers F.C.
As you will already know, your modular construction project will need to satisfy both planning and building regulations. Building regulations set a standard for the design and construction of regular buildings and modular buildings whereas planning permission is used by local authorities to guide the growth of developments in any given area.
Planning policies differ across local authorities in the UK, however, the majority of builds need some form of planning consent. This is true of modular buildings, because they are permanent structures, just like a traditional brick and mortar structure. We can assist with guiding you through obtaining planning consent.
Modular vs traditional construction: which method is more sustainable?
The construction industry can negatively impact the environment, as explained in this study about construction industry pollution: "The Impacts of Construction and the Build Environment".
Modern Methods of Construction significantly reduce that impact due to the offsite construction and assembly environment. The modular build process is therefore much more sustainable, leading to less material waste throughout the project. Less material waste means a lower carbon environmental impact on every project.
Those looking to further improve the sustainability of their modular building can add sustainable and renewable design features such as sedum living roofs, solar panels, eco cladding & insulation and integrated smart technology to reduce energy consumption.   All of these modular building sustainability features can be easily incorporated into the building added after the core build is completed.
Incorporating the green features means the buildings can be built to meet BREAM excellent ratings and Passivhaus standards giving ultimate peace of mind on how sustainable modular buildings are. Both BREAM and Passivhaus are industry-leading companies paving the way for sustainable construction methods.
You can read more here on how the UK construction industry is driving change: Carbon Action 2050 plan by The Chartered Institute of Building.
Modern Methods of Construction (MMC) with modular building is the most sustainable construction method on the market today. The offsite construction process uses less material waste, creates less pollution due to less site traffic (up to 50% less) and the inclusion of more recycled materials within the build all contributing to a better, most sustainable and ethical build.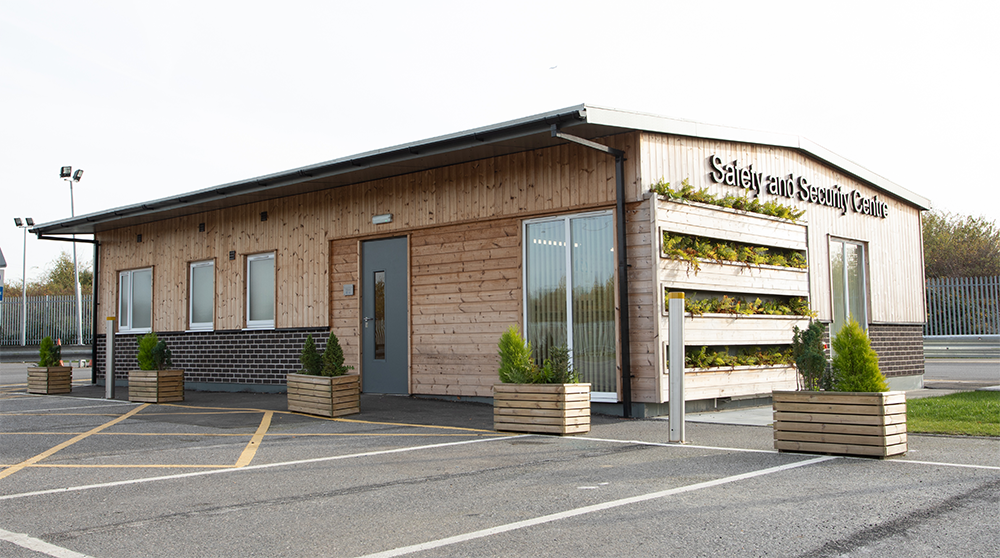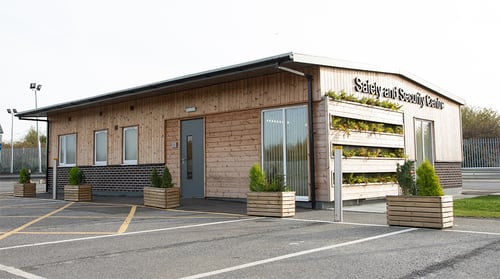 Are modular buildings today of a similar quality to traditional buildings?
The main driver of modern methods of construction (including modular buildings) is to ensure build quality and reduce design errors during the construction process by using modern technology such as virtual reality and 3D modelling.
The buildings are constructed in a factory where quality is constantly monitored with vigorous control checks at each stage to ensure the integrity and quality of the build before it is ready to be moved to the site for installation.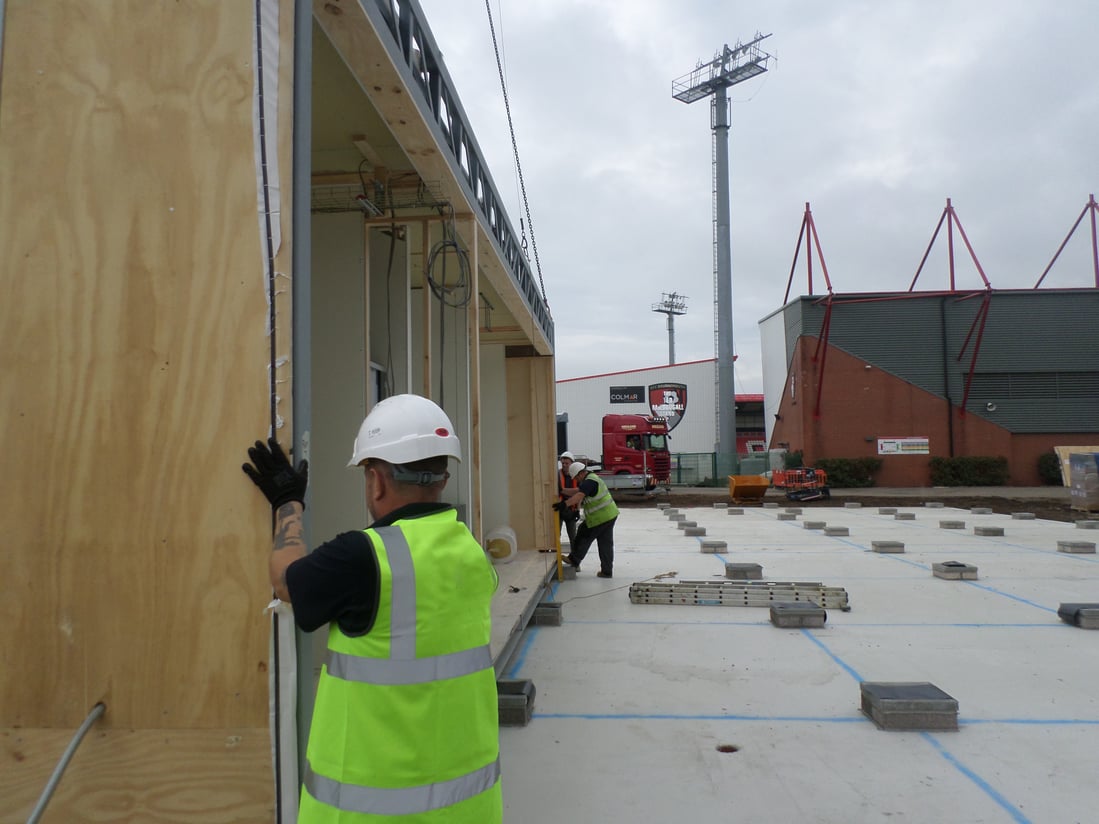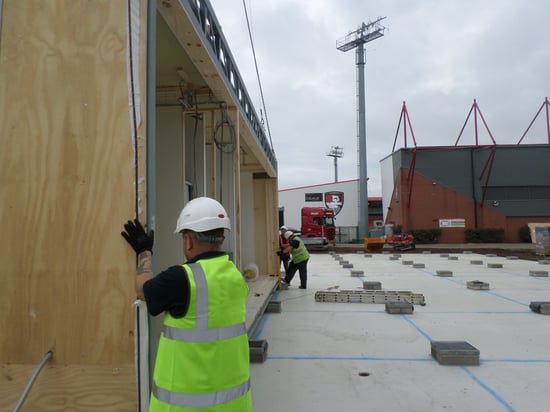 Click on the image to view our case study vifor AFC Bournemouth
Modular buildings have been overlooked in the past, but times are changing.  As we work on more demanding and exciting projects, and as the technology advances, we're able to bust the myths around modular methods of construction and show that they are the way of the future for better buildings, better constructions processes, and a better planet, too.
If you're interested in how a modern, modular construction can benefit you, don't hesitate to contact us.